Posted: 14 February 2013 at 6:24am | IP Logged | 8
post reply

---
It should be noted that there are both DVD and HD-DVD/Blu-Ray screencaps at TREKCore.

One gallery may be more extensive for a given episode than the other.

Looking at "Corbomite"'s HD screencap gallery (26 pages vs. the DVD's 16), it looks like the shots you seek would be there.

••

Boy, I really had to DIG to find the Blu-Ray shots -- and even there, the scenes I need are not the ones selected!

+++++

The fifth panel is maybe too crowded and, yes, the duplication is a little jarring.

••

The Blu-Ray shots only confirm that Bailey scarcely moves in that scene. They DO, however, provide the NEXT shot I need if I want to continue this exercise: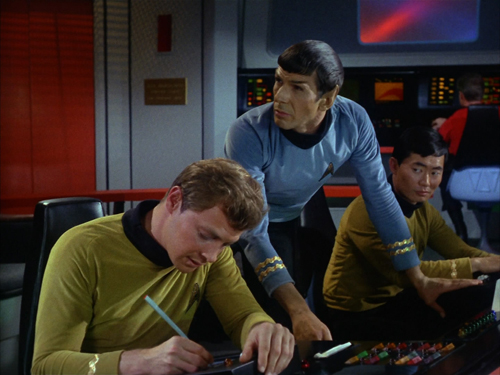 I may rebuild the bottom tier of my most recent page in order to take advantage of this.
Truly Hi-Def images* being available raises another question, tho: Do I rebuild ALL the pages, at an appropriate size for actual publication? No reason to do so, of course, except to scratch that particular itch. No one is likely to want to publish this in actual comicbook form, and the font size would be considerably smaller, creating a potential reading difficulty when the pages are reduced to be posted here.
Mind you, the question is rendered somewhat moot, as the Blu-Ray images have the computer generated Enterprise, not the real one._________
* For some reason the files I have been using are labeled HD, but clearly are not.