Posted: 26 October 2019 at 11:46pm | IP Logged | 2
post reply

---
Here's a head scratcher:




Why does animated Mysterio look like Spock?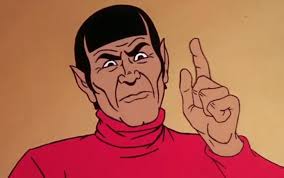 Airdate for "The Menace of Mysterio" is listed as Sept 23, 1967. That's almost a full year after the premiere of STAR TREK in Sept of 1966 and plenty of time for Spock's appearance to influence the character design. The question is.... why?
Arguably, Ditko had helmet-less Mysterio sporting bowl-cut bangs and odd eyebrows long before Spock hit the scene. I was tempted to think that the Grantray Lawrence animators had reused a SubMariner character model from their earlier limited animation MSH show but that doesn't appear to be the case either.