Posted: 23 October 2021 at 8:37am | IP Logged | 8
post reply

---
I rather have a bisexual son of Superman than this: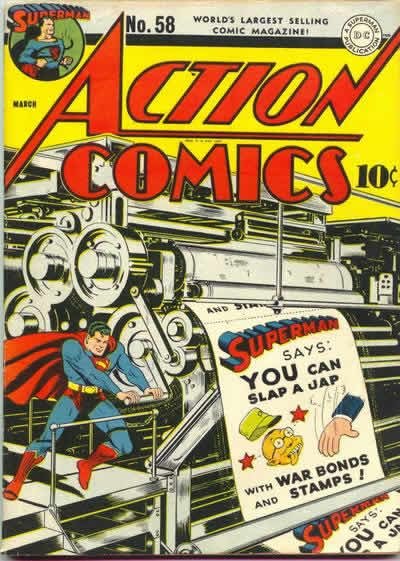 I also agree that Superman is universal, not just American. Even John started reading Superman while living outside the USA.
About the costume, I think the original one (and also the logo) were incredible for the time. Today, I would personally remove both the red trunks and the cloak (too "medieval" for me).
Here's another opinion that will probably not be very popular: I like the action and sci-fi of Superman (and even the light horror, and this is why I love JB's run), but I find his human relations with friends and family predicting and boring.
Superman, even in today's times, is still not exactly a revolutionary, even if homosexuality elements are introduced in some characters. It's still just trying to be popular with most of the readers, but not exactly trying to change the world views of its readers with its stories.
So once we've accepted Superman can change with the times and is not fascist, but also far from a leftist revolutionary (see recent marriage), we must wonder: what makes him good? What makes him bad?
For me, the answer to why is it not that good today is because the stories are not that interesting, because the art is not that great, and because elements like "adult content" (either violence or excessive personal problems) are not fun for kids, and other elements like the unnecessary marriage with Lois Lane, make the character fundamentally more boring and older, as well as removing most of his liberty to live as he wants.
Most of these elements have been introduced because the people who buy the comics today are 35-50 year old guys, so they said: what the heck? Let's do a married, serious and dramatic version of Superman so that these guys can feel identified with their own lifes... f***k the few kids that still read us!
(Also, if we consider Superman as a mainstream sci-fi/action/adventure story, there's a huge lack of imagination in those genres that may be affecting Superman too.)